Implement a quality-based strategy to ensure the competitiveness of your workshop
To guarantee continuous improvements of your products, services and processes through a quality-based strategy, the Cimag Production – Quality Management feature enables you to predetermine the variables that will be inspected by the quality control and set the frequency to which you collect the corresponding data.
Our Quality Management Module aims to ensure that your equipment is running to the maximum of its capabilities and that the processes and operations are carried out in accordance with your requirements.
To support a strategy of persistent quality improvement, Cimag Production – Quality Management sets out to guarantee that product variability remains within the appropriate set range.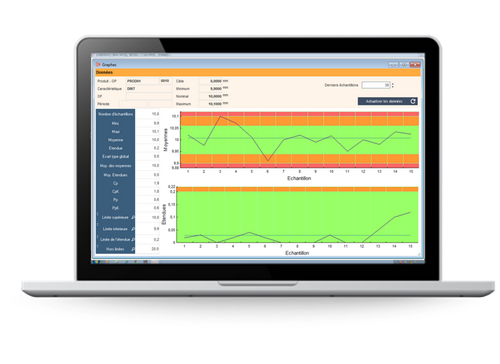 Quality Management SPC Features :
Management of quality control plans
Data acquisition with various types of measuring devices and Programmable Logic Controllers (PLCs)
Management of non-compliance
Quality workflow: Quality Management System (QMS)
Raw material quality controls
Data entry for inspections by self-control
SPC: measurement acquisition, creation of control charts and calculation of indicators (Cp, Cpk, Pp, Ppk, etc.)
Management of measuring devices and calibration tracking
Benefits of Quality Management SPC :
Implement a quality-based strategy built on continuous improvement
Enhance customer satisfaction
Edit quality control reports
Record and track quality controls done on outputs
Decrease production costs and losses due to non-compliance