Data acquisition to monitor industrial production
Retrieve your shop floor data in real time.
With the Cimag Production software – Data Acquisition feature, you can easily and effectively collect machine times, causes of machine downtimes, and labor times by using different techniques and hardware. Regardless of the hardware, communication with the server is achieved on the company's Ethernet, by wire connection or by radio waves connection such as WIFI.
Through this function, you can not only ensure OEE (Overall Equipment Effectiveness) monitoring in real time, assessed using reliable data, but also focus on relevant actions leading to continuous improvements.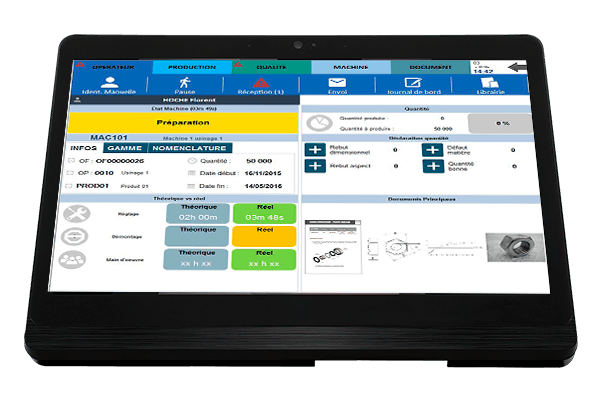 Production Monitoring Software Features:
Automated and real-time data extraction
Retrieve machine information (direct connection to terminals)
Monitoring of machine status (production, setup, cleaning, downtimes, breakdowns, etc.)
Monitoring cycle times, finished products, and scraps
Possibility to set up a direct connection to Programmable Logic Controllers (PLCs) or by Open Platform Communications (OPC)
Management of local devices directly from workstations
Management of raw materials and components by barcodes or RFID
Benefits of Production Monitoring:
Easily collect machine times, root causes of downtimes and production counters
Ensure the reliability of information in your workshop
Reduce time spent entering production data in the ERP
Collect mixed data from PLCs, scales, production counters, etc.
Monitor productivity and production process parameters
Labor Management Software
Monitor your workforce's activities in real time.
The Cimag Production software – Labor Management feature offers a thorough set of attributes enabling your organization to manage labor, whether it is on a quantitative (attendance management) or qualitative level (monitoring labor during production).
The labor scheduling module answers similar labor needs expressed in the scheduling module by enabling you to visualize and modify employee's assignments to production centers, duties, assigned schedules and anticipated absences.
The module generates numerous findings and calculations available to your organization. For instance, it allows you to connect and compare attendance times and occupancy times.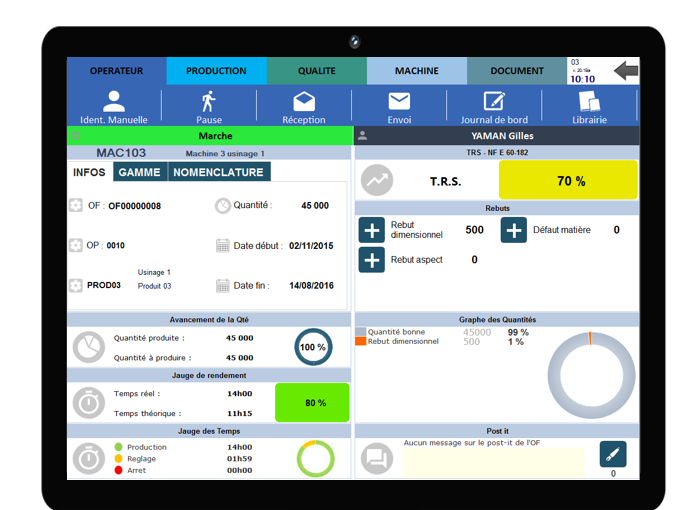 Labor Management Software Features
Operator badge identification
Calculation of workforce performances
Analysis of labor occupancy times
Monitoring of productive and non-productive times
Manage skills and capacities
Creation of an assessment of labor utilization
Estimation of the impact of physically demanding jobs
Easily integrated with the time and attendance management module
Benefits of Labor Management
Easily retrieve labor times
Assign the right resources to the right jobs
Organize work teams according to constraints (absences, teams' turnover, etc.)
Knowing operators' occupancy times
Manage capacities and skills
Performance analysis, oee monitoring
Implement a Lean Management strategy
In addition to the standard editing and printing features offered in Cimag, the Production Monitoring – Analysis feature allows users to send data to a spreadsheet, various databases or to exploit it directly through a SQL requester.
You can export the full set of data displayed on the Cimag screen to Word or Excel, XML format, or directly generate a graph through a pop-up menu triggered by a right click.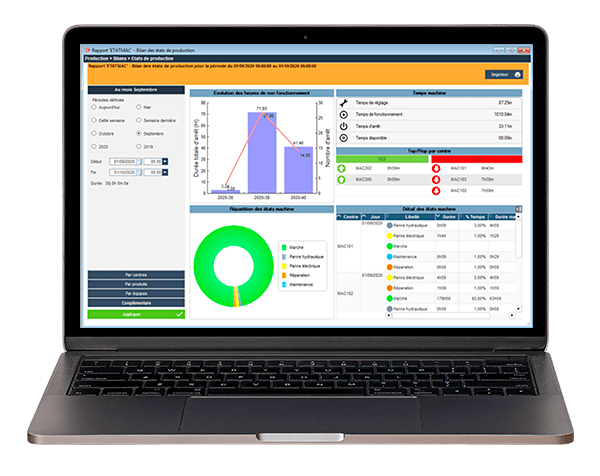 Monitoring Software Features
Monitor the OEE, OOE and efficiency indicators
Time track machines and workforce
Time analysis, WO reporting, and operators' appraisal
Instant performance reporting
Manufacturing Business Intelligence
Dynamic dashboards
Provides an overview of the status of the shop floor
Manage one or several workshops in real time
Implement visual management
Make the right decisions at the right time
Monitor production progress
Would you like a demonstration of MES software?