Optimize the management of workshop scheduling operations
The Cimag Production – Scheduling function deals with the management of workshop scheduling operations that the ERP alone can not manage, it saves the operators and the company time by automatically calculating the time required for each fabrication order.
The starting scenario is given by the ERP (default resource, duration of the operation, link between operations or between OF, …) and by the parameterization realized in Cimag Production (capacity of the resources, calendars, foreseen events, …) .
From this start scenario, the Production Scheduling Manager can fine-tune the schedule manually by dragging the operations in a GANTT chart by Drag & Drop.
It is therefore an intuitive feature that tends more and more to become indispensable for the business management of our time.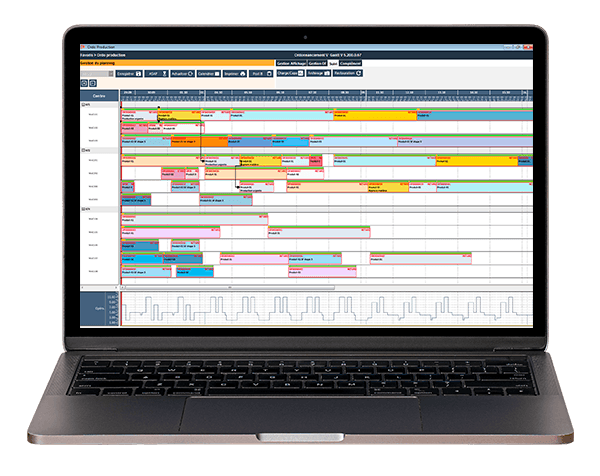 Scheduling Software Features:
Retrieve and import manufacturing orders from the ERP
Calculate lead times and start/end dates of work orders
Automatically recalculate delays in case of machine failure
Customize and manually edit schedules with the Drag & Drop system
Present manufacturing operations and orders as a GANTT chart
Manage sequences and links between operations
Manage machine calendars: time cycles (2×8, 3×8, day …) and occasional events (machine break, preventive maintenance …)
Manage constraints with respect to delivery time
Define the capacity of the resource (multiple work orders)
Calculate and set assembly and disassembly times
Plan at infinite or finite loading: at the earliest (ASAP), at the latest (JIT) or at the scheduled launch date
Manage alerts: Expected delivery date exceeded, availability of tools or materials, etc.
Manage the histograms in relation to the needs and availability of manpower
Print all diagrams, schedules, work lists or lists of delays
Benefits of Scheduling Software:
Master and optimize your schedule
Improve your customer service rate and the reliability of your deadlines
Decrease loading times and outstandings
Optimize the time allocated to the creation of schedules
Share schedules in real time with the workshop
Improve communication between the different planning and production teams
Do you wish a demonstration of our scheduling software?