Collect field data and make it available in real time in your workshop
With the Cimag Production – Visual Management feature, work efficiency and industrial performance can be easily assessed. All the information related to the production can be perceived on the screen at a glance. In other words, you can have a general overview of the workshop in real time.
In order to be more in line with operators and to establish appropriate and suitable goals, supervision is an essential component of workshop management.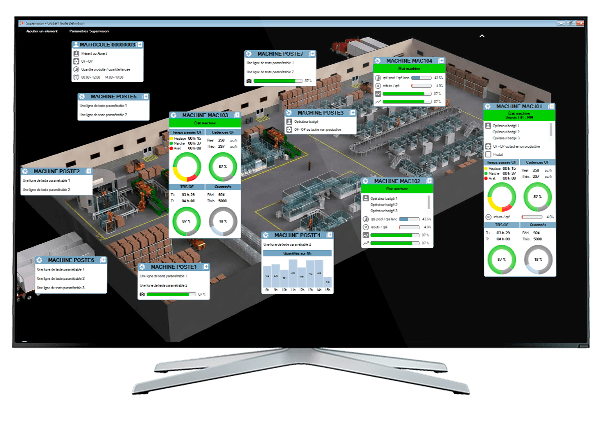 Visual Management Software Features:
Extract and retrieve real-time machine data by direct connection to programmable controllers (PLCs)
Traceability and monitoring of machine settings
Ability to communicate with most PLCs on the market through a communication gateway or Open Platform Communications (OPC)
Connection to other equipment (scales, etc.)
Immediate performance, team management and collaborative work
ANDON system: instant awareness of production issues in order to take prompt actions
Benefits of Visual Management:
Inform and warn teams of workshop events in real time
Control machine settings in real time
Easily collect machine data, causes of machine downtimes and breakdowns, counters, etc.
Lead team meetings and share collected information
Optimize workshop productivity
Do you wish a demonstration of our visual management module ?