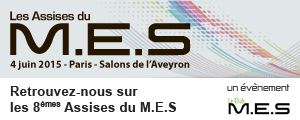 The annual meeting of the MANUFACTURING EXECUTION SYSTEM
Take part in the Assembly of the MES Thursday, June 4, 2015 in Paris to enjoy the experience returns of industrial in diversified activities in order to understand how the MES part in value creation in industrial enterprises.
Program and registration on www.club-mes.com
For the fifth consecutive year, ALPHA-3i participate in this day dedicated to the theme of the workshop management.
On this occasion, the Swiss company TESA, specializing in the manufacture of high-precision measuring instruments, will present the approach taken in the development of the software suite CIMAG Production.